Back to blog posts
Jump to the future with Advanced Lending Solutions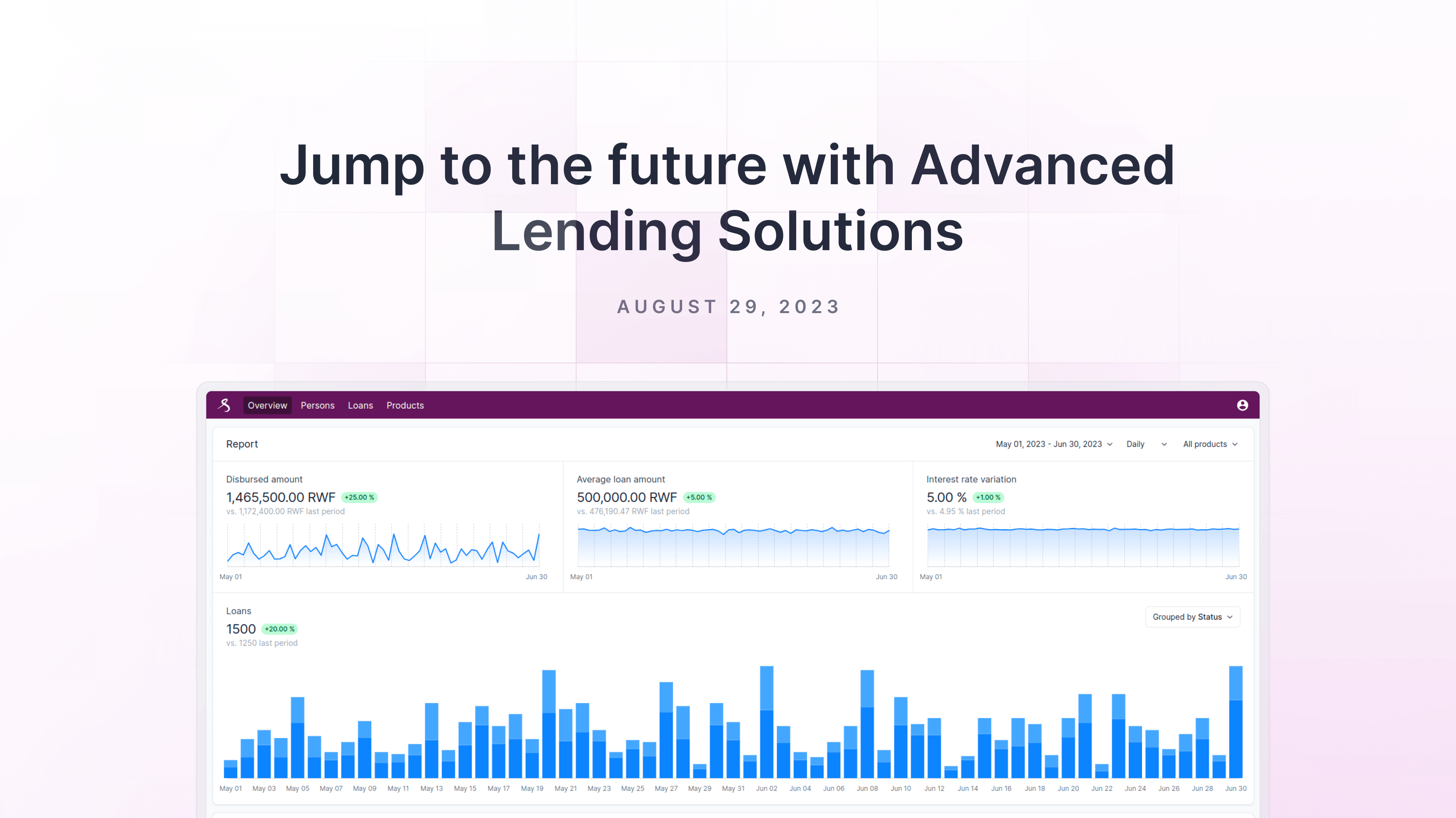 Who are we?
Founded in the Netherlands in 2011, we are an international company that provides a Loan Management Platform to banks and financial institutions worldwide.
Simbuka's name comes from the Kinyarwanda language, which is spoken in Rwanda, and it means "leaping forward." This reflects the company's goal of providing solutions that help banks and financial institutions significantly advance their lending process. We launched the first version of the Loan Management System in Rwanda in 2011, partnering with one of the biggest banks in the country. The partnership was a success, and to this day, we continue to work with them, demonstrating the company's commitment to long-lasting relationships.
We are a diverse company with team members from all over the world, spanning three continents. The company's team members share a common passion for learning and bringing their unique skills together to create the best solutions for our partners. We take pride in our achievements and believe the time has come to introduce Simbuka to the world and make our values and principles known. We currently serve partners in 37 countries across five continents and are fully prepared to scale our operations and expand our reach.
What do we offer?
All of Simbuka's beliefs are built into our Loan Management Platform. The system is fully customizable and configurable, allowing users to control every aspect of their lending process. Simbuka's platform provides financial institutions with all the data they need to make informed decisions and streamline their lending process.
We are proud of our results and ready to scale. The company wants to become the go-to provider for banks and financial institutions worldwide, looking for innovative solutions to streamline their lending process. If you are looking for a Loan Management Platform that will simplify lending, look no further than Simbuka.
We understand that the value of choosing us comes from the results you achieve, which is why we provide in-depth accompaniment and ongoing technical support to ensure you get the most out of our solutions. However, our ultimate goal is to ensure you have full control over their processes and data and can operate them independently without our intervention.
What are our beliefs?
At Simbuka, good software is essential to making work and life easier. As a financial institution, you should have full control over your processes and data, and software should be quickly implemented and easy to maintain. That's why we've defined our core values, including transparency, dedication, configurability, comprehensibility, and authenticity, to ensure that our partners have the best possible experience with our software solutions.
Software needs to be fully configurable by you, as you should not depend on your software provider. With our modular architecture and user-friendly interface, you can easily configure options and settings to suit your specific needs. Additionally, we provide comprehensive documentation and training, ongoing support and maintenance services, and flexible and scalable database schemas to ensure that you have full control over your software.
Moreover, providing insights about your data is crucial to making informed decisions that can help you gain customers, reduce risk, and become more efficient. Our software solutions incorporate visual aids such as graphs, charts, and tables and utilize data analytics and reporting to track user behavior and identify areas for improvement. This gives you all the insights about what happened in the past, what is happening now, and what will happen in the future. By having access to these insights, you can make the right decisions to have more time to focus on the things that are important to you, such as customer relationship management.
How do we achieve it?
Simbuka is more than just a software company - we are dedicated to creating a unique and unparalleled experience for our partners. Our identity is defined by five core values: transparency, dedication, configurability, comprehensibility, and authenticity. These values are the foundation of everything we do and are integral to providing our partners with the best possible service.
Transparency is key to building trust, and we prioritize it at all levels of our organization. We provide users with tools to track and audit their use of our software, use plain language in all communications, and implement clear and concise user interfaces. Our pricing models are transparent, and we implement clear security and privacy measures. Transparency ensures that our partners can trust us and our platform.
Dedication is the foundation of success, and we take this value seriously. We assign a dedicated team of developers and project managers who are committed to the success of each project. We provide comprehensive documentation and training to our clients, offer ongoing support and maintenance services, and continuously seek feedback to ensure that our solutions remain committed to their evolving needs and goals.
Configurability is central to our approach, as we believe in making technology work for our clients. We create a modular architecture that allows for easy addition, removal, and customization of features, implement a user-friendly interface that allows users to configure options and settings easily, and provide the ability to customize workflows and automation processes based on specific user needs. We use flexible and scalable database schemas to accommodate different data structures and types.
Comprehensibility is essential to ensuring that our clients can fully utilize our solutions. We implement a robust Loan Management Platform that enables a seamless application process for borrowers and incorporates visual aids such as graphs, charts, and tables to help users better understand complex data. We provide video or text tutorials that guide users through the software step-by-step and utilize data analytics and reporting to track user behavior and identify areas for improvement in the software's usability.
Finally, authenticity is crucial to ensuring our solutions meet our client's needs and expectations. Our dedicated team invests considerable effort into crafting their software libraries, ensuring our final solutions are tailor-made to meet specific needs. This focus on in-house development distinguishes Simbuka from competitors who rely on pre-existing frameworks or third-party solutions.
These core values are essential to providing our clients with the best possible experience and ensuring their success. We are committed to delivering the highest quality solutions and supporting our clients every step of the way, helping them give a jump to the future.
Join us in the journey towards the future of lending. Let Simbuka be your partner in leaping forward, achieving your goals, and making the lending process efficient and rewarding.
Try and experience the impact yourself
The Next-Generation Loan Management Platform streamlining loan processes like never before. Dive in and see the difference firsthand!